My Heart I Give to Children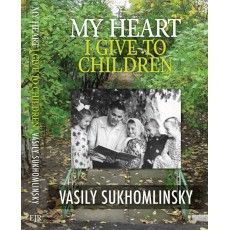 "Now I see the secret of the making of the best persons,

It is to grow in the open air and to eat and sleep with the earth."
With these words from Walt Whitman's 'Song of the Open Road' Sukhomlinsky closes his account of how he educated young children in a Ukrainian village during the aftermath of the Second World War. Vasily Sukhomlinsky (1918 – 1970) was principal of the same rural school in Pavlysh, central Ukraine, for twenty-two years. His remarkable work attracted thousands of visitors, some of whom travelled from the length and breadth of the Soviet Union to see his school with their own eyes. One visiting principal commented: 'I have spent only one day in this remarkable school … but I have learnt as much as I did in four years at teachers college.' (M. Manukian)
My Heart I give to Children was many years ahead of its time. First published in a German translation in 1968 and published in Russian (the language in which it was written) in 1969, by 1998 it had been published at least fifty-five times in thirty languages. It addresses issues such as our relationship with nature, how to nurture children's souls in the face of the sometimes negative influences of mass media, how to help children develop empathy for others, how schools can develop strong relationships with families, how children's brains function and develop, how to foster an intrinsic love for learning, and how to support children who struggle to acquire skills in literacy and numeracy. This classic work is addressed to school principals, teachers, and anyone interested in the upbringing of young children.
Alan Cockerill, translator
This is a new English translation (2016) by Alan Cockerill, based on new Russian language edition prepared by Sukhomlinsky's daughter Professor Olga Sukhomlyns'ka, published in Ukraine in 2012.
This is a downloadable pdf, which is readable on most digital book readers. Other digital formats are available upon request. A printed version is available via Amazon.
There are no reviews for this product.