Support & Be Part of It
Help us to change education ...
Children are curious, creative, and playful explorers, every parent and teacher knows this: the challenge is to make education fit for these creative learners.
For more than 15 years we have worked with thousands of children, their teachers and schools, creating long lasting positive educational experiences that set young people up for life.
Our work is not random – it is research and evidence based. The life-changing results are there for all to see.
We rely on different stakeholders in helping us to achieve our goal of a reinvigorated and revitalised education system for all:
Educators – you are key in a re-focused approach to learning, with creativity, curiosity and play at its heart.
Parents – you have the power to influence the way your child learns – at home and in nursery or school – and support their learning.
Businesses – we rely on forward-thinking and socially-aware companies to support our work with sponsorship and investment.
Individual supporters – support, efforts and donations of people who share our educational values are vital to our continuing work.
"We want as many people as possible to be aware of, and involved in, our work. Children depend on us adults to make places of education fit for their expectation and potentials. And need to be fit for the job, to be creative, determined, researchful and informed, in the process." Robin Duckett, Director.
JOIN US to make a difference that lasts, for our children and future generations.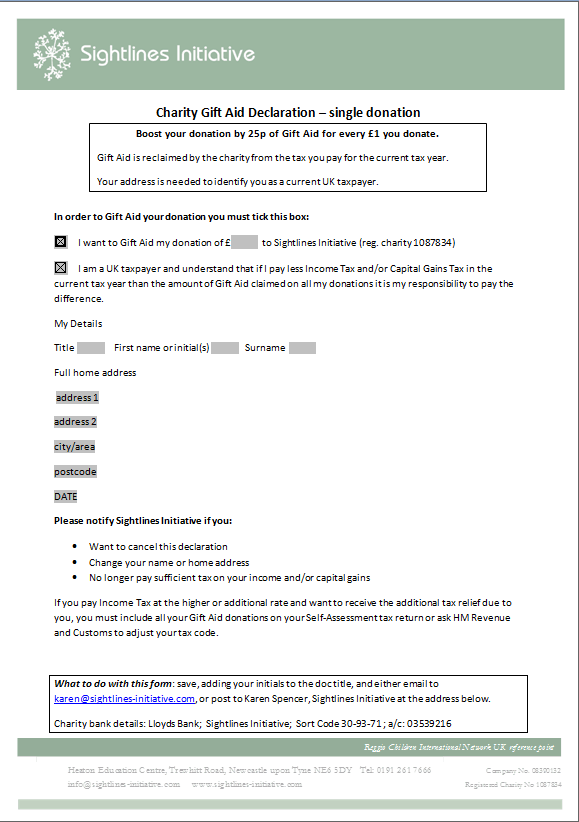 We do not get funding from government – we raise money ourselves for projects and through coaching and courses.
In the past, trusts and foundations including the John Allbar Trust, Surestart, Arts Council England, Esmée Fairbairn Foundation, Natural England, Big Lottery, Youth Music, individuals, schools and local authorities hve recognised and financially supported the work we have done. However, in these difficult times, contributions are harder to come by, and the basic life of an independent advocacy organisation such as ours becomes problemmatic.
We need your help! By donating to Sightlines Initiative, you will be enabling a quiet revolution for change.
As a donor, we expect that you are likely want to be involved in some aspect - presentations, conferences, groups - so we will be in touch to see what is right for you.
HOW TO DONATE
Download our GiftAid form. Click on the image to the right to get the form. You will find our charity account details on the form, for you to make a direct donation via your BACS when you return the form to us.

Contact us about your intended donation - by email (

This email address is being protected from spambots. You need JavaScript enabled to view it.

), or you can call the office 0191 261 7666.

Make your donation by BACS.
Email back your completed GiftAid form to us, which means that we can submit an application to Inland Revenue to receive an extra 25% on top of your donation.
All the best, Robin Duckett, Director