Projects
A year long woodland pre school project  with the Nursery Class of Percy Main School at the Rising Sun Country Park, 2002.
Click here to view the Evaluation Document
Foundation Projects
The 'Creative Thinking in Action' and 'Creative Foundation' projects, comprised the first explorations into developing a creative reflective pedagogy. The Arts Council-funded projects enabled more than fifty early years settings to work researchfully together.
The Creative Thinking in Action Project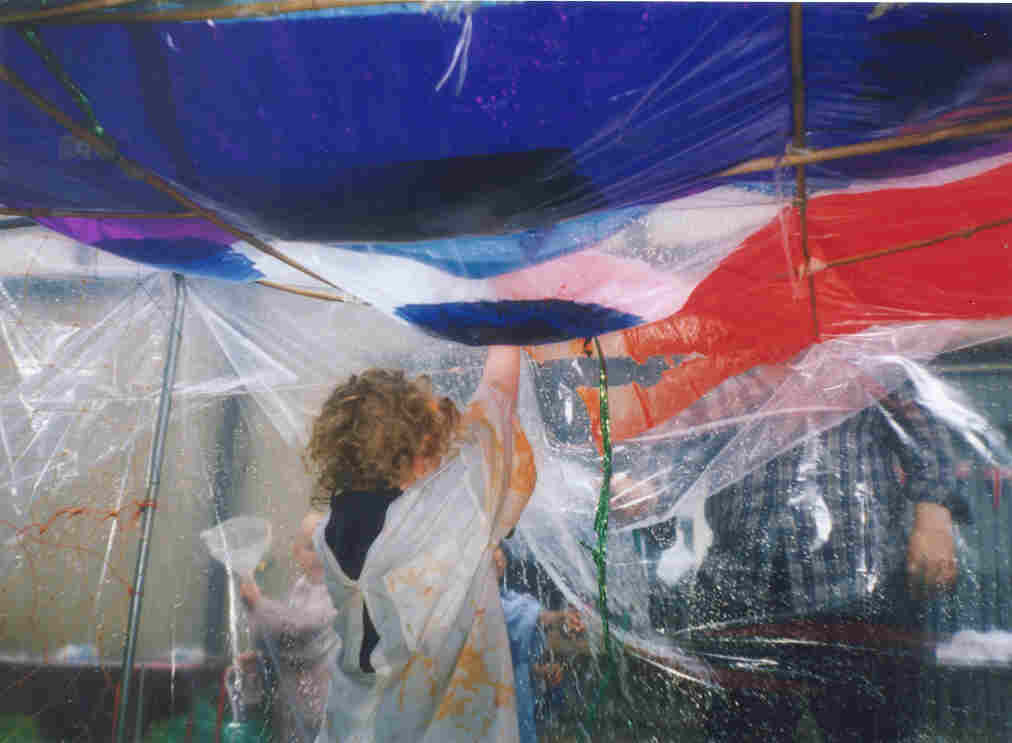 Supported by Arts Lottery Funding, and in collaboration with Early Education, this project enabled forty-five extensive collaborations over a three years period, between artists and early years settings in Tyne & Wear and Northumberland.

More information on the Creative Thinking in Action Project
The Creative Foundation


The Creative Foundation comprised a core group of eight early childhood projects working in relationship with artists and with each other over three years, forming a close-knit practice and research group.The project culminated with the production of The 'Experiments and Encounters' exhibit: a celebratory display of young children's creative potential visualised through photographs, painting, drawing, drawing, collage, video and sculpture with explanatory scripts and panels.
More information on The Creative Foundation
Foundation Project Narratives
Versions of most of these also appear in our publication 'Adventuring in Early Childhood Education' and in the exhibit 'Experiments & Encounters.'
Adventuring in Early Childhood Education is available from our bookshop; 'Experiments & Encounters' is available on request for display.
Making Your Mark
Creature Worlds
Inventing Together
Powerplay
Introduction and background to the project

The purpose of the project was to 'create significant opportunities for and experience of, creative approaches to communication, exploration and expression' in two early years settings.
It aimed to be an innovative project with a focus on:
• the development of creative education
• the involvement of parents and carers in their children's learning journeys
•  the mentoring of an artist in a role which facilitated young children's emerging creativity 
Intelligent Materials

The Playful Beginnings Project had an additional focus of involving parents in the learning journeys of their children.
Central to this approach was the idea of providing an innovative learning environment for the children, shaped by the use of recycled, open-ended materials. These 'intelligent materials' have the characteristic of encouraging the children's investigations and explorations, they do not impose a direction, but pose questions and invite experimentation.
By inviting parents to collect these safe, simple and flexible materials, and then to observe the play, learning and investigations that result, parents and carers were  helped to see the value of non-prescriptive playthings, and to adopt a more facilitating approach to their children's play.
This use of recycled materials also provided an important message about giving another life to cast off objects and so had further environmental benefits.
This action research project had the following areas of activity
• Continuing professional development sessions with the educators to establish shared understandings and vision and values at the outset of the project
• The lead artist residency sessions
• Mentoring trainee artists
• Creative resourcing with open-ended recycled materials
• Documentation- producing the ongoing record of the project narratives- photographic and text materials- as a tool for supporting the children's thinking, sharing the work with parents, carers and others, and informing the evaluation.
• Mentoring the project- supporting artists and educators in their action research
• Evaluation-a summative evaluation which makes explicit the children's understandings and experiences , and also the role of the creative enabler- both artist and educator- in supporting the children's thinking
A creativity project focussing upon creating an Environment of Enquiry for very young children and their parents.